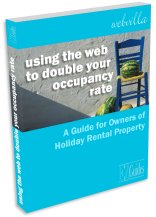 Please take a FREE Guide!

"Using the Web to Double
Your Occupancy Rate"
Are you making the most of the internet to attract bookings for your holiday villa, cottage or B&B? Are you dissatisified with your online directory listing? Perhaps you have a website but no-one can find it? Or maybe you are just about to launch a website?
Our latest guide may be able to help, and its free! It comes by email - just
click here to request a free copy
.
Written in Plain English !
This guide has been written for you: a holiday property owner, not a computer guru. It is written in plain English and assumes only basic knowledge of the internet. It is an introductory guide, but with advanced sections to help you deliver significant improvements for an existing website. The main sections comprise:

The secret of attraction - How does a website attract visitors?

Troubleshooting - Finding and fixing problems that keep business at bay

Creating a doubling strategy - How to double your occupancy rate cost effectively

Putting your doubling strategy into action

Case study: Sunshine 365

Getting the show on the road... safely!


Ten powerful techniques to help you succeed online
With the web, just like traditional advertising, some people do very well and others are disappointed by results. Why is this? Read Using the Web to Double Your Occupancy Rate to learn about 10 of the most powerful techniques available to help ensure that your website is a success. And some of the pitfalls. For example, did you know that one of the world's largest search engines will never list a certain type of website address?


About the Author
The author of this guide, Phil Hulme, is a Member of the Institute of Direct Marketing, with over ten years experience as a business and marketing consultant in the corporate world. He has been quoted in The Economist and The Financial Times, as well as specialist publications, such as Precision Marketing, and has spoken at numerous conferences about marketing and the internet. In 2002 he launched WebVilla, a business which helps owners of holiday properties get online with their own website at low cost. Included in the service is free advice and coaching on achieving success online, including search engine advice and marketing techniques.

Using the Web to Double Your Occupancy Rate draws upon the accumulated learning gained through working with WebVilla and corporate clients.


Why is it free? How do I get a copy?
I believe that the service offered by
WebVilla
offers unparalleled value-for-money and results for our clients. If you read this guide I think you will understand how we achieve this, through the knowledge and experience we make available to our clients. You are, of course, free to use this knowledge in your own way and without making any use of our services. I hope that perhaps you will choose to contact us, one day, to see how we can help you.
To read more or to ask for a copy of this guide, delivered by email, please
click here
.
Your sincerely,