Bed & Breakfast
Is it sometimes frustrating that the postage stamp sized picture of your lovely bed and breakfast just doesn't do it justice? Or perhaps your B&B enjoys the most picturesque of locations. Whatever it is that separates your guest house from the rest, a brief directory listing whether printed or online simply can't compare with your own website: richly illustrated with photographs, and a commentary in your own words allowing you to convey the warmth of welcome a guest can expect.

You'll need to be well placed on search engines of course, so that people can find you - you can trust WebVilla to take care of that for you though.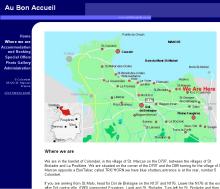 Customer Reference
Property: Au Bon Accueil
Web link:
www.brittanybnb.co.uk
"Many thanks for all your help. We look often on Google, and our website is nearly always at the top. We've been learning a lot too, and with a recent change our bookings are now going through the roof! We're even struggling to avoid double booking the rooms"
Steven Hodgkinson